Do you ever wonder if you can keep your children busy with an indoor activity without you having to spend big amounts for buying them toys. There are many activities with which you can keep them busy "Pick up sticks" is one favorite such activity. It is liked by most children as it is simple and appealing.
These Pickup sticks can be made easily at home .It's a homemade toy that one can make easily and as well as enjoy playing with ease. Not these colorful and dazzling sticks are not only fun but are easily made and accessible while one can use them in so many play and different skill areas.
It is quite easy making these colorful pick-up sticks on your own. You can use and discover different things to make these sticks. Here we can think of different options of making these sticks with. It could be Lollipop sticks or any other such sticks that can replace the main sticks. Basically you get to buy a pack of these sticks. These are perfect for improving fine motor skills in children along with improving their physical and mental skills. Usually colorful wooden and plastic sets are available in the market.
How to play Pick-Up Sticks?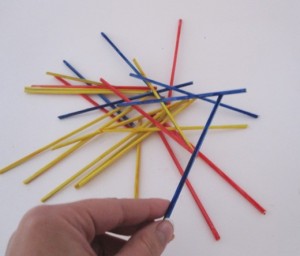 It is quite easy to play pick-up sticks. Get a piece of pen and paper and throw all the sticks in five different colors', out on a table. Make an effort to pick up one stick without moving any other stick. The rule is that you can glide, pull or tug a stick, but you are not allowed to move any other stick. If you tend to move another stick, your turn is over. The different color sticks contains different point(like red color-5 points, green color-4 points).Note the points on paper as per the color the code and calculate the sum of points. The person with the most points at the end of the game wins.
Skills developed while playing pick-up sticks:
These sticks are one of those favorite tools which at one time can be helpful in improving many skills. If a set of pick-up sticks is used with the intention of skills improvement this can lead to improving different physical and mental skill polishing at the same time. Let us consider what all these skills could be:
Coordination between hands and eyes
Careful Visual Scanning Of the the pile improves observation and each player can pick up only one or two specific colors to make the game even more tough.
Grasping skill is improved by picking up the sticks. Children need grasping for managing items on their own like zippers and buttons etc.
Improves overall motor skills
Picking up the sticks encourages an open space between the thumb and pointer finger, needed for handwriting.
Improves visual observations
Pick-Up sticks, is one such activity that children love normally and if your child happens to develop a liking for it you can adopt some different ideas to further modify the activity like using different things instead of sticks or choosing different scores for different colors.