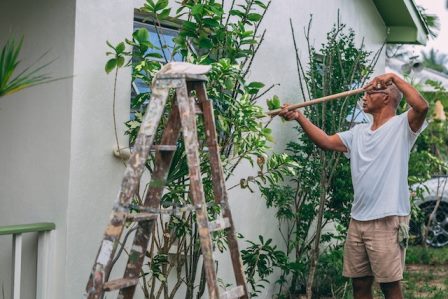 The exterior of your home is the first thing people passing by and visiting your it notice. Enhancing your home's curb appeal makes a positive impression and can increase its resale value. If you want to give your home a fresh and inviting look, here are some ideas to help you achieve that.
1. Spruce up your landscaping
A well-maintained yard sets the foundation for great curb appeal. Start by trimming overgrown bushes, trees, and shrubs. Give your flower beds a new life and add a pop of color by planting seasonal flowers. Consider adding window boxes or hanging baskets to bring more charm to your home's exterior.
2. Create a welcoming entryway
The front door is the focal point of your home's exterior. Consider touching it with paint or varnishing it again in a shade that goes well with your home. Add a decorative doormat and consider updating the hardware, such as the doorknob and knocker, for a new look. Enhance the entryway further with potted plants or a bench.
3. Create an inviting front yard gathering space
If your front yard is large enough, consider setting up a dedicated outdoor entertainment space, such as a patio or deck, complete with a dining area and comfortable seating. You can incorporate a pergola or canopy for shade to keep it protected during sunny days. Enhance the versatility of the space by adding features like an outdoor kitchen or fire pit, where you can gather with friends and family for BBQ parties or outdoor cooking adventures.
Consider browsing online stores like BBQ Outfitters to procure top-quality grills, smokers, and other essential cooking appliances. It will increase the functionality of your home's exterior and add to its curb appeal.
4. Upgrade the outdoor lighting
Thoughtfully placed outdoor lighting improves safety and adds a touch of elegance. Install stylish light fixtures near your front door and along walkways to create an inviting ambiance. Solar-powered lights are a cost-effective and eco-friendly option.
5. Dress up your windows
Windows play a crucial role in your home's appearance. Consider adding architectural shutters to frame your windows and give them a classic appeal. Freshen up the window frames with a new coat of paint that complements the rest of your exterior color scheme. Adding window boxes filled with colorful flowers will further enhance their charm.
6. Refresh your exterior paint
A new coat of paint will dramatically improve your home's curb appeal. Choose a color scheme that blends well with the architectural design of your home and the surrounding environment. Pay close attention to the trim, shutters, and front porch columns to achieve a unified and professional appearance.
7. Replace the garage door
The garage door sometimes occupies a sizable piece of the front wall. If your garage door is worn out or obsolete, consider replacing it with a trendier and more contemporary one. Alternatively, give your current door a makeover with new paint and stylish hardware.
8. Include charming details
Even the smallest details can significantly improve your home's curb appeal. Consider including decorative accents like house numbers, a smart mailbox, or a unique address plaque. These finishing touches give your house character and help to distinguish it from other houses in your neighborhood.
9. Improve the pathway
A well-maintained and aesthetically pleasing pathway sets off your home's exterior. To get a more upscale appearance, fix any holes or uneven surfaces and consider changing to pavers or stone. To direct guests to your front door, line the sidewalk with eye-catching plants or solar-powered walkway lights.
10. Keep your exterior clean and orderly
Always remember the significance of routine maintenance. Power wash your home's siding, walkways and driveway to maintain cleanliness. Regular lawn maintenance includes weeding, cleaning the gutters, and trimming the grass. An attractive appearance that has been well-maintained exudes pride of ownership.
11. Renew the roof
Renewing your roof is a significant home maintenance aspect beyond aesthetics. A properly maintained roof enhances the overall look and protection of your property. If your current roof shows signs of wear and tear, such as damaged shingles, leaks, or frequent repairs, it may be time to invest in a new one to enhance its appearance and functionality.
Choosing high-quality, long-lasting, durable materials is essential when selecting a new roof. Options such as asphalt shingles, metal roofing, or tile can offer excellent protection and withstand various weather conditions. Consult a roofing professional to determine the most suitable material for your climate and budget.
12. Fix the driveway
Pay close attention to how your driveway affects curb appeal. In case of damage or cracks, fix them and consider resurfacing or repaving. Adding decorative components like cobblestone borders or an elegant gate can make your driveway look better and more polished.
13. Incorporate sustainable landscaping
In addition to improving curb appeal, you can make your home more environmentally friendly by incorporating sustainable landscaping. Plant locally adapted, drought-resistant plants that need less water and upkeep. Install a rainwater collection system or use permeable paving materials to lessen water runoff. These environmentally friendly options enhance the outside appearance of your home while also helping the environment.
Conclusion
Improving the curb appeal of your property can be easy. You can create a welcoming and charming environment outside your home with these simple and inexpensive ideas. Each component makes a warm and inviting first impression, from landscaping and new paint to little decorative accents. You'll be rewarded with a stunning home that shines out in your neighborhood if you take the time to put these suggestions into practice. If you have more tips for sprucing up your home's exterior, let us know in the comments below.