You have probably heard that a tan color or brownish-yellow color boosts confidence. Tanning is psychologically comforting and socially desirable. A researcher of the Missouri School of Journalism, Cynthia Frisby conducted a study that states light brown skin color loos more attractive than pale or dark skin color. Tan color has several usages in acrylic paint such as skin tone, hair, and even to color trees, wood, and chocolates. Thus, while you are curious to have a tan color in your skin tone, you might want to know how to make the color tan.
In order to achieve a tan color, you have to mix different colors and if you are a beginner you might be a little confused about how to mix the color. However, the preparation for tan color is very easy and beginners can also easily mix the colors without having a problem. Even though there are different procedures that you can follow, this article will explain to you the easiest method to make a tan color considering the most available ingredients.
Necessary Elements to Make the Color Tan: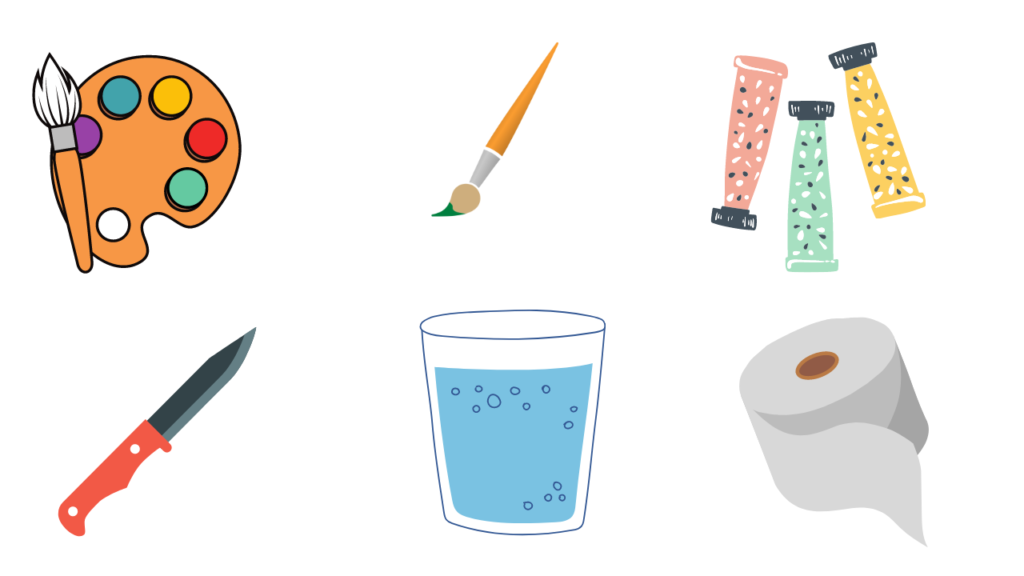 The elements that you need to make the color tan are as follows-
A palette.
A paintbrush.
White, yellow, red, and blue in acrylic paint.
A white paper to taste the color.
A knife.
Water to clean the brush and knife if necessary.
A cloth or tissue paper to clean the knife.
Steps Involved to Make the Color Tan: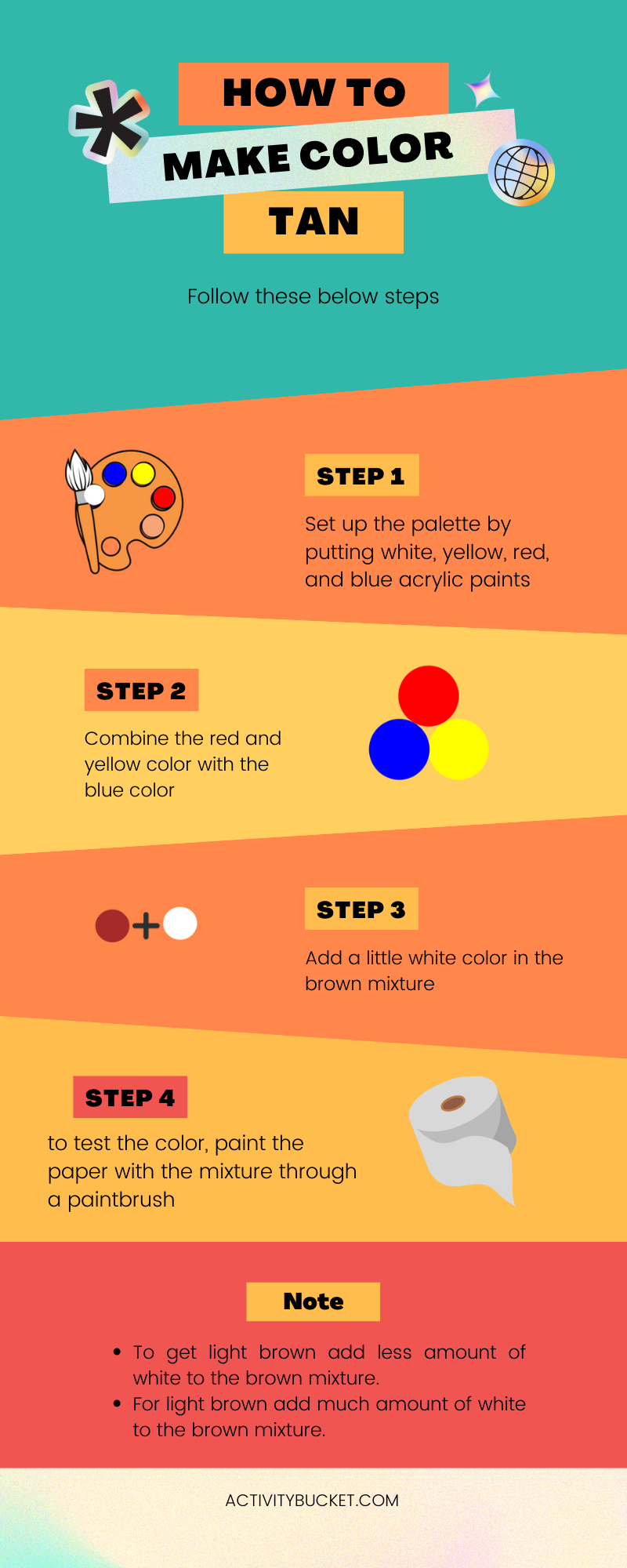 1. First Step:
First, you have to set up the palette by putting white, yellow, red, and blue acrylic paints on the palette. Your palette should have sufficient space so that every color remains distinct. You should also try to take each color of the same amount.
2. Second Step:
Now, you have to take all the primary colors with the same proportion and mix them all together to have a complicated mixture. First, you have to combine the red and yellow color with the blue color. In order to mix the color, use a knife and mix the colors well for a while. The three different colors will then come up as a muddy brown color. You can also experiment with the amount and number of primary colors to have different results. However, if you use the above-stated primary colors, you will have the same type of results.
3. Third Step:
This step is the most interesting step to have a tan color. In this step, you have to add a little white color in the brown mixture to have a pale brown color that looks very attractive. While you will add the white color, we need to ensure that you take a smaller amount of white color compared to the primary colors that you had taken for making the mixture of brown color. If you add much amount of white color, your mixture will look like a light brown. So, to have the perfect color for your skin tone, you need to make the mixture a little brighter with the addition of a little white color.
4. Final Step:
After the third, you have your desired beautiful tan color. But before you apply the mixture to your skin, testing the mixture is very important. So, to test the color, you take white paper and paint the paper with the mixture through a paintbrush. After observing the color on the white paper, if you think that the color meets your demand, you can apply it to your skin or wherever you want to paint. However, if the mixture is not satisfying enough, you can again experiment with the colors to match your demand.
Different Experiments of Tan Color:
i. Warmer Tan:
Warmer tan color is usually applied on trees, wood, or bricks. Here, you first need to add the red and yellow color and that makes tan warmer. Then to cool down the mixture color, you need to add a little amount of blue color.
ii. Cooler Tan:
Color tan is used to color fur or dark hair and here you need to add blue color in an amount that it looks cool color. The blue color makes the tan color look cooler.
iii. Lighter Tan:
In order to use tan color for painting, light hair, or to paint cups or other artifacts, lighter tan color is perfect. However, to make the color mixture lighter, you need to add white color as much as wish to have the lighter color.
iv. Darker Tan:
To make the darker tan color, you need to prepare a combination of many colors or you can add a little bit of black color. Dark tan color is perfect for dark wood and hair.
FAQs
What color is tan color?
Brownish-yellow color is the tan color. The green tinge of orange or a pale tone of brown makes the tan color.
How do you get the color tan?
You have to mix brown and white colors to create the tan color. You can have different types of tan colors by mixing different levels of white ad brown colors. You can also mix brown and yellow colors together to have a golden tan color.
What are the variations of tan color?
There are different types of tan colors such as Tuscan tan, Crayola tan, Sandy tan, and Windsor tan, etc.
Why does tan skin look attractive?
Tan color is psychologically comforting and it enhances one's confidence as people perceive the tan color as socially desirable.
Which skin color is most attractive?
A study by Cynthia Frisby has found that light brown skin color is more attractive compared to dark or pale skin color.
What is tan in skin tone?
Tanning is simply a process where the skin color is tanned or darkened.
Does a tan make you look younger?
Tan not only helps you to look natural but also makes you young. Tanning helps you to reduce the fine line of your skin through conditioning and plumping the skin.
What is the safest method of tanning?
The use of self-tanning products or tanning spray is the safest method to tan. Otherwise, the cosmetics can penetrate your skin and cause harm.